No one ever prepared me for the amount of uncertainty in parenting. When my daughter was born I had about 5 books that I constantly referenced. One or two in the bathroom, one or two in the bedroom, one or two in the living room. I picked each of them up at least once or twice every few days, often more depending on which book was closest and which questions I happened need answers to that particular day.
I distinctly remember a few (okay,
many
) occasions when I'd toss the book down in frustration, unable to find an answer to the very specific issue I was dealing with. How was I supposed to know why the tiny person was crying? I'd tried everything!
All I wanted was an awesome mom fairy to sit on my shoulder and tell me exactly what my daughter needed--or a book that always had the exact right answer for that exact situation. I wasn't prepared for the serious learning curve of motherhood. I don't think anyone ever is.
The last couple weeks have been another learning curve. My sweet little girl, who has slept through the night for well over a year now, has been up more nights than she hasn't in the last couple weeks. First it was teething. Then a growth spurt. Then nightmares. Then allergies or a cold. I'm sure moving to a new home and totally disrupting her schedule--oh, and time change--hasn't helped. Toss in a couple nights where the new puppy was also dealing with the toddler issues of teething, growth spurt, a new diet, and a new home (and letting us all know about it in the middle of the night), and you have a recipe that would make even the most committed two year old sleeper wake up crying a few times.
I still don't have a mom-fairy to sit on my shoulder and tell me what my daughter needs, or a book that always has specific advice for that specific night's waking ("She's hungry, Sophia, take her a snack." or "It's a bad dream--she just needs a hug and to know that she is safe and everything is going to be okay"). And I have to admit, in the middle of the night I still think those things would be nice.
That said, God designed parenting the way He did for a reason. If I had a magic answer book, I wouldn't be quite as quick to plead for His help. I wouldn't be quite so fast to recognize my need for His wisdom. I probably wouldn't direct my daughter's attention to Him quite as naturally. And I certainly wouldn't learn nearly as much. Magic books and fairy-moms sound great in the bleary-eyed exhausted morning hours, but the training in trust and wisdom God gives me in the boot-camp of pre-dawn parenting is more valuable than any quick-fix that gets me back to sleep faster.
I'm not sure how long this stage will last, but while it is here I'm going to enjoy the extra time I have with my eldest daughter--the only child for just a few more weeks. I'm going to treasure her sleepy hugs, and the press of her body curling into mine. I'm going to thank God for the extra time we have together, no matter what hour of the night it is. I'm going to keep asking for wisdom and grace in every moment. I'm going to choose joy and thankfulness.
And I'm going to sleep in, as often as possible.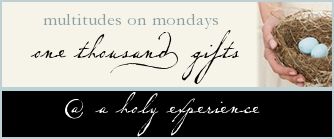 Meeting other homeschool moms, a little (or a lot!) farther down the path than I am
Getting ALL of the laundry done AND put away
Spur of the moment time with family
A fun game night
Great deals at a new-to-me store
Learning that "no" (even to myself) is the
most freeing word in the English language
An early morning with my hubby
Sleeping in
Enjoying a good audio book while cleaning
Dreaming
Technology that allows me to join in on church services, even when I'm miles away with a sick little one
Birds, singing in the morning
Puppy pounces
A completed hand made table!!