Looking through the last few 1000 gifts posts I realize how incredibly intense the last few months have been for me. Spiritually, emotionally,
physically
--when I sit down each week and review what has happened just thinking about it feels exhausting.
This past week was different. It was a week of recovery. I did spend a few days "flattened," but I rested through them. I stayed home. I worked on the house (and made great progress!). I did some fun things (like napping :P). It was a hard, abrupt stop after the busyness of the last few weeks. And God knew it was just the kind of week I've needed.
After such a restful week, this past weekend we had my first baby shower. We had so much fun! The decorations were lovely--on the theme of Peter Rabbit and Beatrix Potter. The games were absolutely hilarious, and had most of us in stitches at least once. I got to see some old friends, a few of whom went VERY out of their way to make it there. And once the shower was over I was showing Richard my presents and realized were a lot closer to "being ready" for Baby than I realized. That's a very, very nice feeling for this mom-to-be. :-)
All in all, this past week has been a gift from God. First in giving me the time to relax and be productive at the same time (while I did rest a LOT last week, I also got a lot accomplished around the house--from cleaning and organizing to daily chipping away at
my freezer cooking goals
). Second, the encouragement that I've gotten this weekend from old friends, family, and on baby prep has been wonderful. I had been feeling overwhelmed with what I had left to do, now I'm not. We've got a month, we can do this!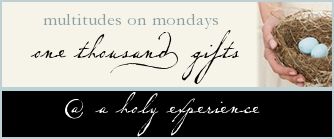 446. A
week with my mom and brother
447. Intense sessions making me focus on Christ
448. Making a list of my favorite books
449. purchasing the very, very best books
450. a york mint frappe
451. Lunch with my sister, Grace
452. Putting my feet up in the AC after a long, hot day
453. Seeing my man after days of being apart
454. Rest
455. A whole evening with my man--no planning, no figuring, no stress (and no dishes). Just
us.
I thought the cabbage bowls (top L, and bottom middle) were so cute! (472)
456. A love letter
457. Being reminded of
what marriage is about
458. Laughter in a room full of women as we gave each other shoulder rubs on a break
459. A generous gift
460. Seeing progress--little by little
461.
Freezer meals
, cooked and ready
462. Days of rest after a week of "on my feet"
463. An unexpected evening at home (and the foot rub that followed)
464. Encouraging numbers
465. Putting words to paper
466. Natalie and her arm rubs
470
467. Going to see a movie with my family
468. Getting all dolled up--pretty clothes, pretty face, pretty day
469. My first shower!
470. Seeing old friends
471. Abi, who flew down so she could come to my shower
472. Cabbage dishes
475
473. Cute, cute decorations
474. Beautiful, thoughtful presents--perfect!
475. Games that kept us in stitches
476. Hugs from friends
477. Looking through my baby supplies and realizing I'm not as far off as I thought anymore