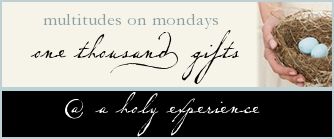 I look back on this past week, and where I was last weekend, and I can't believe all the living packing into the last seven days. It's been an extreme week, full of highs and lows and everything in between. A week in which how I
felt
about things wasn't always an accurate reflection of reality. In the movie
Fireproof
one of the characters has a line:
"don't just follow your heart, man, because your heart can be deceived. You gotta LEAD your heart."
That's been this week. It hasn't been an easy week, but it is good to be reminded that Faith isn't a reflection of our feelings, it's a reflection of reality. It is choosing to believe the reality of God, over the temporary feelings of our deceitful hearts. We need days like that.
Keeping this count of gifts through the weeks has been a wonderful exercise. The longer that I do it, the more I appreciate the value of this list. Our memories are what we keep of our lives, and this list helps me focus on the good gifts of God. Reading through the old lists is like being given the gifts a second time. It's as if a gift, given and received by the writing, is a gift that can be given countless times over.
381
361. Quilt inspiration, thanks to MamaDoll
362. An engagement party
363. The cutest little strawberries ever... I'm going to put tuxedos on all my strawberries from now on
364. Heart conversations with my man
#363
365. My neice, introduced to a piano for the first time (the look on her face when she realized it made noise? Priceless. But the smile in the picture isn't too bad either.)
366. The BIG NEWS that my SIL is PREGNANT with baby #2!! Totally awesome! This is five gifts in one!
367. Making flower presses myself (can't wait to find out how the flowers press!)
368. Sister love
365
369. Taking my Keepers out to the bluebonnet patch not far from our church
370. Pictures with my mom
372. God's goodness, even when it's something I know by faith, not feeling
370
368
369
373. My new Work In Progress, a baby quilt wall hanging
374. Picking out baby colors
375. A quiet, empty room with a comfortable recliner, my feet up, while cutting out quilt squares (or napping). Yes... getting to that stage of pregnancy. Definitely slowing down.
377. Celebrating a Seder dinner with a play and meal at our church
378. My husband playing Jesus in the Seder play, and the ensuing playful teasing (his FIL, my dad, asking for an autograph, etc.)
379. Thaddeus, disciple of Jesus, getting his last few moments of laptop time before the play.
380. Abby (niece) preferring me to whoever is holding her (except mamma or daddy). Nothing like a baby's welcoming grin!
381. My Irises,
planted two years ago
, blooming beautifully (and the bouquet of them my mom brought me)
382. Bluebonnets on the Seder table. Only in Texas. *smiles*
#378