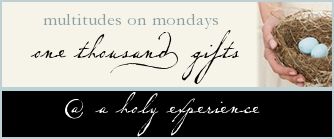 Perhaps I've been saying this too much, but the weeks are stretching long. Not long and boring, time that can't be filled, but long and full. So full I can't believe that some of the pictures below are only one week old. It seems like I've lived a lifetime in the last few days.
Some of the living has been good--moments that are to the soul like breathing air is to the body, life-giving. Other bits of the living have been very, very hard. Moments that I am glad that God knows what He is doing, because in my humble opinion the situations look like messes, not beautiful masterpieces. Those are the moments I cling to verses such as Romans 8:28 (And we know that all things work together for good to them that love God).
But I know I can trust Him, and continue to thank Him for the gifts He gives so generously day by day.
#383 (5 weeks, 31 weeks, 40 weeks pregnant)
383. Pregnant with both my sisters in law at the same time (I was praying for that, barely got the picture, SIL on the left found out she was expecting last week, SIL in the right was due Monday!)
384. The looks I got as I went around cheerfully handing out "Doughnut seeds" at church on April 1st.
385. My husband, preaching at church
386. Granny and Grandpa, honored for 11 years with this church--after 45 years of overseas missions.
#386
387. Dinner with my man, sharing my heart and him hearing.
388. Finishing out my first shelf reliance party--hurray!
389. Attending our first Bradley birthing class
390. The look on my husband's face at some of the pictures in that class... :-P
#384
#385
391. My husband, insisting on buying me a waterbottle right after class, keeping up with the homework faithfully, and making a point to look after "his pregnant wife." :-)
392. "All is well" after the tornados went through--PTL for safety
393. Cutting out the quilt squares to my newest project
#396
394. The Keepers, sewing away with all their quilt squares
395. My birthday!
396. A mini-party, just because we are together (and three different people planning it independently :P)
397. Reconciliation
#405
#406
398. Going on a walk with my brother
399. The "pool" that has been started where my husband works to guess the gender and birthdate of our baby
400. The home, getting increasingly organized
#404
401. My first-ever chiropractor appointment
402. The feeling of relief in my back and hips after the appointment. ahhhhhhh. *happy mama*
403. Midwife telling me that the baby is facing the right direction--and that doesn't usually change at this stage. whoo-hoo! :-D
404. Mini-vacation with my family as we visit my uncle
405. A full weekend to just relax
406. My niece, soooo in love with dogs (she can say three words now, mama, daddy, and doggy)
#405