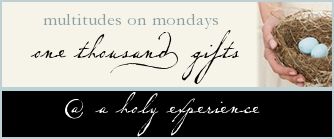 It's been an eventful week. Sitting down to write this I know there were several ideas I'd had for today's Thousand Gift post. I can't remember any of them. Either because this week was too brimful, or because I'm pregnant and now struggle to remember basic things (like my own age...).
One of the things that really brought joy to my heart this week was visiting the gardening center of Wal-Mart after I went grocery shopping. Spring is definitely my favorite season, and it has come early to Texas this year.
I am absolutely in love with spring flowers. The vibrant, cheerful colors make the whole world feel fresh and new. The flowers also make me think of my wedding, because although I was married in late summer, I'd determined long before the date was set that
regardless
of what time of year our wedding ended up being, the feel would be Spring. I took the color scheme for the wedding from Snapdragons (which, sadly, weren't in season) and alstromera. Can you see the resemblance?
# 265
253. Flower bouquets, marked down to $1.50, lasting days in a vase on my table
254. Blossoms on pear trees, a spring delight
255. Little buds of unexpected life peeking up from my window box
#275 (Contenders reciting
verses for the church)
256. Finishing valentine truffles while working on Keepers
257. Days off, unexpected (needed) blessings that show God's love for me
258. Driving with my sister to church
259. A good audio book
260. A strawberry milkshake from my man!
#275 (Contenders reciting verses for the church)
261. Keepers gone well
262. Snuggling
263. First notice a stranger took of my pregnancy
264. Spring flowers in walmart
265. Snapdragons!
#271
266. Help unloading my groceries with the comment, "You shouldn't be carrying anything heavy in your condition!"
267. The smell (and taste) of an absolutely fabulous chocolate cake I made myself
268. Laughter at a family birthday party
269. Grandmother, cousins, and siblings around a table playing the family card game, "nuts"
270. Clearance section Christian Enrichment books, $1 each!!
#272
271. Date night with my man, watching the first movie we ever saw as a married couple,
The Great Race
, in an old fashioned theater (complete with a magician sharing movie trivia beforehand).
272. A Thank you card
273. Planning a church library (a book lovers dream job :-P)
274. An evening with my family, doing a Bible study together
275. Watching my husband lead at church
#272 (you'll notice the figure on the left has a belly. That would be me. :-D )
276. Plans of a new Bible Study with a couple friends
277. Letting a couple of my sisters feel Baby R for the first time (lots of kicks!)