My dearest little one,
Even though I've never met you, I feel like I've been getting to know you over the last few weeks. You are so energetic! Last week your daddy woke up in the middle of the night and felt you dancing around in me while I was sleeping. He couldn't believe how busy you were (or that I could sleep right through it!). He said that any baby who has that much energy has to be either a strapping warrior-in-the-making or a jungle princess.
Even our midwife, Donna, said you were unusually energetic. Of course, that morning your mama had given you your first "taste" of doughnuts (a piece of information she didn't volunteer...), so the sugar may have had something to do with your quick little movements. You didn't like the junk food, though. In fact, although your mama had greatly anticipated the unusual treat, she wasn't even able to finish it! Maybe you will be one of those rare children who prefer fruits and veggies to candy bars and suckers. Your mama certainly wouldn't mind (though she isn't holding her breath).
This past weekend your mama and daddy went to a concert with your your granddad and grandmother. It was in honor of
St. Patricks Day
, and was entirely Celtic music (which happens to be a favorite of your mama's). There were even some Irish dancers for some of the songs (did you know your mama used to take Irish Dance?). You certainly seemed to enjoy the concert--any time the music was going you were awake and dancing away, but when the music stopped you took a nap. Your daddy assured me that meant you were either going to be a bag piper, or an irish dancer.
Did you know that your great-aunt Denise gave your mama and daddy a bag of fortune cookies she stuffed herself? Each fortune cookie, there are a dozen, has a different instrument. She said we were to open one for each baby, and that way we'd know what kind of instrument to assign each little one. She was only joking, but your mama really did keep the cookies, and has opened one for each pregnancy. You got the Trombone.
It's a good thing God is the one that directs our future and our interests, and not our parents/family. If you were to fulfill all of these predictions you'd end up as either a musical warrior with bagpipes and a trombone, or an jungle princess who does Irish dance while playing her trombone. Either picture makes your mama giggle.
Well, my little one, I need to finish this. I am looking forward to meeting you in just three months.
With love,
Your mama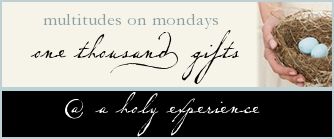 305. A week off of work
306. working down a "to-do" list, and finishing. Or at least getting close
307. The sound of birds in the morning
308. Rain pattering on the roof
309. Whole days spent at home, choosing not to rush off
#310
310. Sister Grace spending the night
311. God's schedule planning (so much better than mine!)
312. A surprise gift
313. Helping out with the
Cherished Ministry
--and that Grace could come also
314. Cold stone creamery coffee ice cream
#319
315. A long conversation with a friend (who taught me a few new things about my home business!)
316. Heat embossing, with the keepers (I've been looking forward to learning this all semester--and it was just as fun as I expected!!)
317. A mid-day phone call from my dad
318. A funny conversation about Harleys and ice cream at the Braums checkout line
319. Two dozen pink roses from my man, spread all over the house--the table, the bathrooms, the counter.
#319
320. Baby, kicking away
321. A Celtic concert, complete with dancing, acting, and amazing singing.
322. Chinese food--specifically duck. Mmmmmmm
323. Our first
Shelf Reliance
party--and it went well!
324. The moment we realized that AT that first party, instead of serving the made up Chicken Salad, we'd accidentally served an unseasoned mixture of freeze dried chicken, celery, and onion--
but no one noticed.
And the laughter that ensued (I'm still giggling).
325. Foot rubs from my man--always appreciated!
326. A bouquet of wildflowers from my Keepers girls
#326