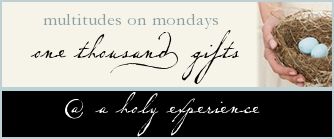 Continuing to count on to a Thousand Gifts with Ann Voscamp. I'm keeping a record of the gifts that God has given me each day--whether small or large, all given from His gracious hand.
228. Days off
229. A good book, read late (too late!) at night
230. Shared smiles over common ground
231. Dinner and a movie
232. the computer/printer working. Finally.
233. Print drivers installed (may seem little, but it isn't!)
234. Keepers gone smoothly
235. Energy to attend church after Keepers--I'm usually wiped out!
236. Community group, finishing a series, best evening yet
237. Time spent talking with another mama
238. Quiet weekends at home
239. Being "caught up" on my various jobs. Is this the first time?
240. Pulling out a sewing project for fun, for me, because there are no more pressing demands (first time since I've been married?)
241. Surprises from my man
242. A hand braided crown for an extra special date-night (oh, and my new makeup too!!)
243. Sharing firsts--like the nicest dinner at the nicest restaurant either of us have ever enjoyed
244. Waving hello to my cousin, professional chef, at work in her kitchen
245. A husband who can answer my questions
246. Celebrations--anniversary, new job, valentines day, and "just because" all rolled into one.
Back when "the bump" was something only
my hubby and I could see. Not so small now. *smile*
247. Heart-to-heart sharing
248. A new friendship
249.Sunday, busy, but lovely
240. Creamy cheesecake
251. A brother carrying groceries up, just because I'm pregnant and he's nice. :-)
252. Getting another "sonogram" from Granny, adding to the gender guessing game. Boy? Girl? Either way I'm convinced now it won't be my dream of both at once. *smile*