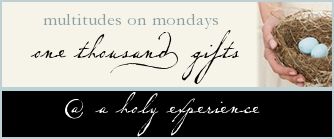 This week is going to be a little different of a Multitude Monday for me. Lately God has been putting my life on the fast-track, and there are SO MANY blessings I have to count!!
A new Keepers of the Faith ministry at church (231), and the 8 girls I meet with every week to teach them fun homemaking skills, Bible Verses, and character (232). The way their eyes light up when it is time to meet brings joy to my heart (233). The eagerness of the boys to do something similar (after seeing how much fun their sisters are having)(234), and the stepping up of a soon-to-be man to fill the need for a leader—THAT makes me smile (235). The words of praise as their parents pull me to the side and tell me how much their daughter enjoys the class, and that they are already seeing a change at home in the way she acts around her family—is the crown (236). This is a 10 year dream realized over the past 2 weeks—and it's everything I'd hoped it would be. (237)
A new Ladies Bible Study I started at church, small—only 4 of us (238). But we meet every week as we learn together to trust God with everything, and quiet our noisy souls before him. (239) It challenges me.
An anniversary, my first, spent very quietly with my husband. (240) A year ago today we'd just arrived back from our honeymoon, and I was just learning how to be a wife and dreaming of being a mother. Now I am a mother, (241) though my baby is with Jesus, and have learned to be a help-meet for my husband. It has been a beautiful, quiet, perfect first year. (242) I know that this next year will be different. But that's good too.
A new ministry given to me in an area I've dreamed of working in for many years. (243) I was trained a few weeks ago to work with We Are Cherished, and though I haven't yet been able to volunteer with the ministry, I look forward to the ways God will use that in my life and in the lives of the women he puts before me.
A new apartment, next door to my brother and his bride (and their new little girl!). I love our beautiful new home! :-) (244)
A new community group, the second one in our church, visions multiplying. (245) This one will be meeting in our new home, too—blessing upon blessing!
Housekeeping: Since we moved a couple weeks ago my schedule has been completely out of the norm. I haven't had time to keep up with email, much less the blog. I'm hoping that as life settles down into a new normal I'll be able to pick up writing again as well; but for the time being I'll only be posting a couple times a week.