I completely forgot to post my 1000 Gifts last week, so here's two weeks worth of my little joys. I imagine the blog is going to be a bit slower for the next week or two, as my hubby and I are preparing for our move this weekend and our anniversary next weekend (can it really have been a year already??). I'll still be around, but may be a bit quieter than usual.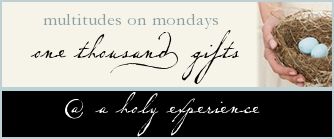 207. planning in advance (anniversary around the corner!!)
208. Writing a Katie Luther monologue for Reformation Day
209. New planner pages come in the mail!!
210. An anniversary gift arrived early
211. A visit from a friend to help with packing
212. Lots more boxes!!
213. The book shelves packed (mostly :P)
214. fudge Sundays with a sister
215. New week to plan
216. A Proverbs 31day (awesome!)
217. Sushi with my parents, a double date
218. 30lbs of ground beef to put up
219. Freezer cooking day with the "in-laws."
220. 6 year old Christiana "chopping" parsley for me
221. 47 meals made, 6 recipes, under $1 per main course serving.
222. Long quiet time and a goodbye walk
223. Sewing progress
224. Preparatory packing finished (thanks mom!!)
225. Sunshiny, beautiful (cool!!!) day!!
226. Wonderful fun planning sessions (about any number of topics!!)
227. Work--hard, but rewarding.
228. An avalanche of free boxes, all in the same day, what a blessing!!
229. A posse of in-laws come to help pack--two days of work, and one packed apartment the result (THANK YOU!!!!)
230. Saying goodbye to our first home--5 days to go.