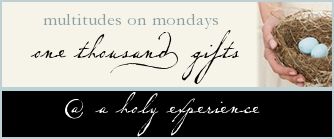 It's a new month, a new week, all rolled into one. I am so glad that God created the days, the seasons, for us to mark time by. Each time a season changes, a new month arrives, the calendar flips over to a new week, or the sun rises over a yet-untouched day we are given the opportunity for a fresh start. As I'm marking down my gifts this week, I am thinking most of the freshness of a new day, and what a gift it is simply to wake up in the morning and have to opportunity to give the day back to Him.
The steadfast love of the

Lord

never ceases;

his mercies never come to an end;

they are new every morning;

great is your faithfulness.

"The

Lord

is my portion," says my soul,

"therefore I will hope in him." (Lam3:22-24)
168. Excellent Sunday school lesson from my man
169. The Body of Christ, the healed wounded, praying for a wound to be healed
170. Peach cake
171. An evening at home—needed!
172. An engagement ring—searched for and found!! (and a soon-to-be proposal!)
173. Looking for a new home
174. Man grins
175. Family time with siblings
176. "Till we meet again" plans
177. Early bedtime
178. Fresh, new morning
179. Rain clouds!
180. Date night at the Olive Garden--a special treat
181. My favorite salad dressing
182. Waiting ended
183. Church additions, more souls
184. Kay, all stretched out thin in a TP roll
185. Books on the table, dreaming
186. A fresh start all beautiful
187. Time with my Lord
188. Dishes done, kitchen clean
189. Reading aloud as we travel together
190. Interesting patterns in homemade potato chips