My man and I have done a lot of dreaming this week. A LOT of dreaming--all of it starting with just a grain of reality and then built into a absolutely beautiful castle in the sky. I know all the dreaming probably won't end up being reality, and that's really okay with me. It isn't reasonable to expect all castles to come out just the way we've planned them in our head. I've just enjoyed the freedom we have to build those lovely castles together.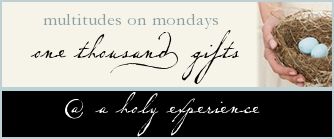 191. Lots of little girls that need to be occupied, just at a time when I'm free. Maybe time for a
Keepers
program? A dream castle long standing.
192. Walking through a fabric store again, dreaming of possibilities (the last time was before I was married!)
193. Fabric for not one new dress, but TWO
194. sewing again, after a year off
195. Anniversary planning
196. An offer of help in packing--gladly accepted!
197. A tasty meal with family
198. watching the droopy leaves of a houseplant perk up after getting water
199. The first few boxes-packed
200. My hamster, Kitty Strunksworthy the First
201. ALL the laundry DONE (well, except folding, but still! It was a great work!)
202. Happy memories packed in boxes (and the anticipation of UNpacking them in just a month
203. Resolution
204. A new morning
205. dreaming with my man
206. Castles in the sky