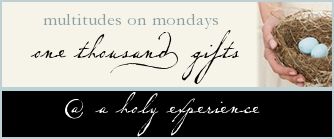 I haven't written down much in my little book the past week, but I have taken some pictures--so this week "Multitude Monday" will be fully illustrated!! :-)
110. Silly sister pictures on a family vacation
111. Learning how to use a
camera timer!!
112. A 100th birthday reached!!
Praise God!
113. a belated Fathers Day gift for my man.
114. Pretty ballerina hair for a pretty ballerina
115. Little people giggles posing for a picture
116. Miles of flags lining the street.
117. Fireworks, unexpectedly seen from our porch.