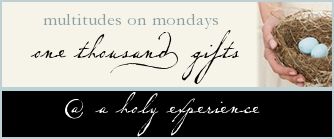 This post was written in the middle of last week, and scheduled to be posted today. I've decided to go ahead and post it, because despite what my husband and I learned this weekend everything I wrote here is STILL true. I'll add some further thought at the end, with this weekend in mind.
*~*~*~*~*
Early last week a sister of mine asked me what wonderful works God has been doing in my life. At this moment in time, I feel almost silly for giving the testimony that God has given me. Aren't testimonies supposed to be stories of something gone horribly wrong, "but God..."? Is it really a testimony if the entire thing is a list of the blessings God has given?
I hear stories of the triumphs of other Christians who endure unspeakable hardships and yet come through them rejoicing and praising God. The stories are motivating, but they have also almost given the mindset that the most important time to praise God is when bad things are happening. Of course, it IS important to give thanks even when it is hard, but that isn't the whole story. We are to give thanks for the unpleasant things, but we are ALSO to rejoice in the good things as well!
In a most recent display of his providence, the Lord provided my hubby and I with a 14lb bag of super tasty farm-fresh veggies, compliments of a lady I've only met a handful of times. The Lord's mercies truly ARE new every morning, and He provides for the most practical of our needs!!
So, without further ado, God has tremendously blessed my family. Tremendously!! It isn't that we have come into a grand monetary inheritance, but the daily provision of our needs is wonderful to see. God has graciously provided for our needs, in ways that aren't always recognized or appreciated immediately for their worth. Looking back, though, I am able to see his wisdom and love as he directs our paths day-by-day.
I had no idea when I wrote what was above how quickly God would give me the opportunity to test my words. Can I praise God when things are hard, as well as when they are good? To be very, very honest--it took me awhile. I never doubted God when I learned that He'd taken our baby home to be with Him. I never doubted that He would use it for good, and that His will was best, and that if THAT was what HE willed for US--then that is exactly what I would have chosen for myself.
But acknowledging and submitting to God's will isn't the same as thanking him for it. My husband was able to thank God almost immediately. I remember him praying with me after we'd left the doctors office, pulled over in front of a Starbucks, grieving to hard to drive further, and he thanked God. He didn't understand--we still don't understand--but he thanked God anyway. I tried to pray along, but I knew--and God knew--that the words I mentally repeated weren't heart-true. It took God's strength to enable me to thank him for the loss of our Baby. To enable me to see that even this is a gift.
I decided last week that it was time to continue my march to 1000 Gifts. I continued keeping up with in my journal for awhile, but it has been a long time since I added anything new either to the journal or the blog. I didn't realize when I made the decision to start counting again how much I would need this today, or how hard some of the gifts would be to count. I didn't realize that the same day I finally get around to posting the gifts related to my baby's birth announcement would be the day I start counting the hard gifts after my baby went to Jesus.
70. Ducklings shepherded across the street
71. The ability to invent recipes (sometimes!)
72. Stuffing jalapino peppers with my man
73. The opportunity to ease my husbands burdens
74. The way my husband's eyes light up as he's telling me about his latest project.
75. Baby Dreaming while pushing a shopping cart
76. happy secret's shared
77. The look on my husbands face when I told him about baby!
78. A single rose.
79. Sharing joy with others
80. My Mother's Day Corsage
81. Paper, glue and scissors--crafts!
82. Sharing the Lord with those who don't know Him
83. SUMMER BREAK!!!!!
84. A nap in the afternoon
85. Date night at home, no interruptions
86. Hagen Daz coffee ice-cream (a gift from my man who won't touch the stuff himself)
87. Farm fresh veggies--14lbs of them as an unexpected gift!
88. The firm grip of my husband's hand around mine, as we waited in a darkend Dr's office
89. The gentle, sweet support of my Midwife as she told us what to expect... when we're not expecting anymore
90. A husband who is loving, supportive, encouraging. I don't have words for this gift, only God knows what my husband has been to me the past three days.
91. My church. It is a house of love.
92. The mothers at church, who in their support during this time model for me how to grieve in a Godly way--not as those who are without hope.
93. Flowers, sent by dear friends when they heard the news
94. A letter, written by a young friend
95. The chance to spend an afternoon with a dear sister
96.Sharing a Schlotzsky's Original,Dip Cones, and good conversation. :-)