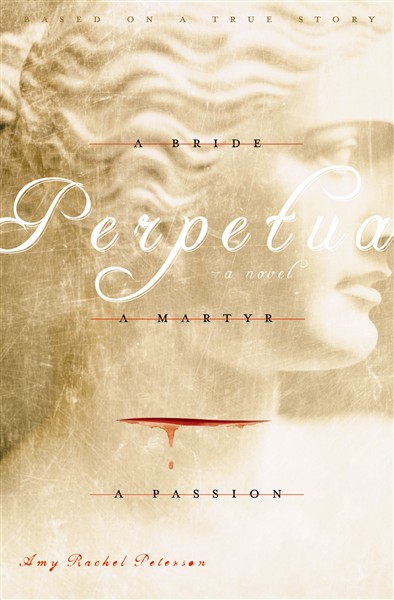 Yet another good book. Have I ever mentioned that I LOVE good stories? And if the story is true, or the characters ring true, and if it challenges me in my walk with God, the story is particularly special. Perpetua is a story like that.
Perpetua was a young woman who lived in Rome a century or two after Christ died. What we know of her we know through her diary, which was kept while she was in prison awaiting martyrdom and is the oldest surviving text written by a Christian woman. (A translation of this diary can be read
here
and further information about her can be read at
Wikipedia
.)We know that she had much materially to give up--she was wealthy enough to be well educated and able to express herself clearly in writing. We know that she had a son, who was not martyred with her. We know that she died willingly for Christ. The author of this book was reading her diary and was inspired to write this book by one sentence:
"the dungeon became to me as a palace, so that I preferred being there to being elsewhere."
To quote the author, "What, I wondered, had made this wealthy young mother not only willing, but eager, to give up her life so ignominiously? Her original diary records the events after her capture, I set out to discover through story what led her to the state of heart that suffered pain and loss joyfully and ultimately guided the executioners sword to her own throat. Every effort has been made to remain true to the historical context of her life and the people and events she herself recorded." In my opinion the author did a stellar job.
There are several things that stand out to me about this book--I'll list them from least to greatest.
First, I love historical fiction. I really do. But I've found that many books set in ancient Rome (moreso than Greece) and aimed at an adult crowd go a little far in describing the debauchery that permeated Rome before its fall. Even Christian books delve into actions, in the name of realism, that are best left out of entertainment. Perpetua does NOT do this. However, the story DOES deal with two, possibly three, situations that could be disturbing to younger girls (I say that based on what my own reaction would have been had I read the book when I was younger). As such I recommend this story to older girls (over 16 or so).
Second, I really, really appreciated the way the author handled the romantic portion of the story. I am absolutely set against girls reading romance novels--it isn't healthy for a woman spiritually or mentally. Though Perpetua does get married, the romance is handled well. Nearly half the book has passed before she ever knows her future husband, and there are so many encouraging statements in Perpetua's single years. She struggled, but ultimately submitted to ALL of Gods will in her life. I first read this when I was in the same place of life, and Perpetua's determination to sacrifice her desire to be married to God encouraged me to do the same. Now that I re-read the book in a different stage of life I find myself more challenged by Perpetuas struggle to give her husband up to the Lord. In every stage of life there is sacrifice to be made.
There were a few things I didn't care for in the story. A few were misunderstandings that probably are historically accurate (such as not allowing new believers to be baptized or participate in the Lords Table until they had continued faithfully for 3 years and been taught all the foundational truths). Then there were a few things that I'd differ on theologically. However, these differences were mentioned briefly, and were not remotely integral to the story.
A challenge from the book I have tucked away in my mind for pondering. In this quote a slave girl is speaking of a difficult situation her slavery had placed her in, "Now there is nothing more to do [to escape the situation] but run to Lady Julia and tell her I am a Christian. But that wouldn't be dying for love, for Jesus. It would be escaping. My death is not for my own choosing."
Overarching all is one word--passion. This is a passionate love story between a young woman and her Savior. I do not mean that in the flippant "Jesus is my boyfriend" way that has been in vogue the last few years. I mean it in the consuming, complete surrender of one's will to Another. Her life challenges the way I view suffering and live out my Christan walk. She wasn't perfect--her faults were many, and I could sympathize with them all!!--but she did trust the Lord. Even when something happened that was painful or uncomfortable, even when something made her angry, she took it first to the Lord and wouldn't leave Him until she had an answer (even if the answer was "Wait").
This is the closing quote for both the book and the letters written by Perpetua: "
O most brave and blessed martyrs! O truly called and chosen unto the glory of our Lord Jesus Christ! whom whoever magnifies, and honours, and adores, assuredly ought to read these examples for the edification of the Church, not less than the ancient ones, so that

706

new virtues also may testify that one and the same Holy Spirit is always operating even until now, and God the Father Omnipotent, and His Son Jesus Christ our Lord, whose is the glory and infinite power for ever and ever. Amen."
Quotes from the book:
"I am so sad, for Revocatus, for Mevia's friends who will miss her here... but I rejoice," the sob was invulentary, "I rejoice for Christ!!" [...] She could speak only in whispers. "One more person has declared--to the heavens, to the earth--that He is worth everything they can give and more. He is worth it all." ~p 123
*****
I began with a small weak prayer, the sort one prays when overwhelmed by how far away from His mind one is.
I am lost, lost. Do I know nothing of trust, Lord? I only know one thing. You are good. Good! I don't know how to see your goodness here, in this, but I still believe it.
Were we obeying Him? Was the sword in my hand His, or my own?
Speak Lord. Search my heart.
Not my will, but yours be done.
Christ?
I trembled.
Though I was a Son, yet I learned by the things which I suffered.
But You, You didn't need to suffer to learn.
I learned obedience by the things which I suffered.
Revocatus' boy-like voice came back to me. "
A servant is not above his master, right?"
He and Felicitas had been learning these things, while I luxerated in the beautiful buds of salvation and priesthood and ignored the bloom of surrender.
Give up your will to Me.
"Oh, God." I shook. I'd thought I had. I'd given up marriage, and he'd provided Saturus. And since that provision, I'd come to expect every good thing and no bad. He didn't call me to simply
give up my desire for evil things. That happened at the cross. He asked me to give up my desire for the good things, and to take what came as a gift and not my due.
The cost is not just your blood, but your self definition, your reputation, your life. Abandon these to me. These are the things I gave up for your sake.
I lost all sense of myself within the surroundings of flesh and wood and room. I was spirit and soul and I stood in front of my own God and found myself lacking, found myself counting earthly treasures more valuable than eternal ones, found myself unwilling to return what He had first given.
God forgive me. Forgive me. These things you gave, and I have held onto them. They are not mine but yours.
And yet, as I returned what was his already, these drops of my blood, they became my extravagant gift to Him.
[...]
The faith to live, to trust Him regardless of the physical difficulties, is the deepest part of the human soul. His obediance had led to my life. I had no idea what my obediance, my submission, would lead to. But I did know this--joy would accompany it. I rose as if from an injury. It was healed...healing...but I must always bear the scar of this knowledge of God. Jesus became bright, and terrible, and so to be longed for." ~P 300, 301
*****
"Oh, I do, I do, I greatly trust my heavenly Father, but my faith is like that of a child. It does not keep me from experiencing pain or fear. I simply always turn to, always fall back upon, always cry out with arms upraised, "Abba!" And I have no doubt that He will be there." P 321